Analysis of the flow pattern of a fluidized bed using alternative designs of air distribution trays.
Keywords:
Fluidized Bed, Granulator, Air Distribution Plate,, Flow Pattern
Abstract
Fluidization is a unit operation widely used in the pharmaceutical industry, because it encompasses mixing, drying, granulating and coating, due to the versatility in handling air flow patterns applied in granulators with different distribution plates. The technical information regarding the design of pharmaceutical granulators is scarce, In this research air distribution plates were designed and built, in order to enhance the correct operation of fluidized beds by modifying flow patterns. Obtaining various designs of plates, from the simplest; the axial distributor of orifices up to the most sophisticated; the whirlwind. A CAD design program was used for modeling and a 3D printer for manufacturing. When analyzing the incidence of the operation of the plates in the generation of flow patterns and the relationship with particles of different sizes, shapes, and behavior according to the classification of Geldart powders, the plates that showed better characteristics in the different operations presented an effect of combined flow between axial, radial and rotational type, Verifying that the improved flow pattern in the plates it causes a rotational effect on the particles.
Downloads
Download data is not yet available.
References
Cocco R, Karry R, knowlton T. Introduction to Fluidization. The Global Home of Chemical Engineers. 2014.
Pinheiro C, Fernandes J, Domingues L, Chambel A, Graca I, Oliveira N, et al. Fluid Catalytic Cracking (FCC) Process Modeling, Simulation and Control. Industrial & Engineering Chemestry Research. 2011; 51(1): p. 1-29.
Gao J, Gray D, Motheram R, Hussain M. Importance of Inlet Air Velocity in Fluid Bed Drying of a Granulation Prepared in a High Shear Granulator. AAPS PharmSciTech. 2000; 1(4).
Chaplin G, Pugsley T, Winters C. Application of chaos analysis to pressure fluctuation data from a fluidized bed dryer containing pharmaceutical granule. Powder Technology. 2004; 142: p. 110-120.
Liu R, Li L, Yin W, Xu D, Zang H. Near-infrared Spectroscopy Monitoring and Control of the Fluidized Bed Granulation and Coating Processes - A review. International Journal of Pharmaceutics. 2017; 530(1-2): p. 1-30.
Sutar H, Kumar V. The Effect of Distributor Design on Hydrodynamics of Conical Fluidized Bed Dryer. International Journal of Current Research. 2012; 4(09): p. 168-172.
Haron N, Zakaria J, Mohideen M. Hydrodynamics study on drying of pepper in swirling fluidized bed dryer (SFBD). International Research and Innovation Summit. 2017;(226): p. 1-6.
Sathiyamoorthy D, Horio M. On the influence of aspect ratio and distributor in gas fluidized beds. Chemical Engineering Journal. 2003;(93): p. 151-161.
Grupta CK, Sathiyamoorthy D. Fluid Bed Technology in Materials Processing. 1st ed. Boca Raton: CRC Press; 1998.
Mujumdar AS. Handbook of Industrial Drying. Tercera ed. Boca Raton: CRC Press; 2006.
Parikh DM. Handbook of Pharmaceutical Granulation. Cuarta ed. Boca Raton: CRC Press; 2021.
Mohideen M, Sabudin S, Zakaria J. Improvement of Solid-Gas Interaction in Fluidized Bed Systems via Secondary Air-Injection. MATEC Web of Conferences. 2017; 135(1): p. 1-7.
Shukrie A, Anuar S, Oumer A. Improvement on particulate mixing through inclined slotted swirling distributor in a fluidized bed: An experimental study. Advanced Powder Technology. 2016; 27(5): p. 2102-2111.
Ouyang F, Levenspiel O. Spiral Distributor for Fluidized Beds. Industrial & Engineering Chemistry Process Design and Development. 1986; 25(2): p. 504-507.
Mohideen M, Faiz M, Salleh H, ZaKaria H, Raghavan V. Drying of Oil Palm Frond via Swirling Fluidization Technique. Proceedings of the World Congress on Engineering. 2011; 3: p. 1-6.
Mohideen M, Seri S, Raghavan V. Fluidization of Geldart Type-D Particles in a Swirling Fluidized Bed. Applied Mechanics and Materials. 2012; 110-116: p. 3720-3727.
Sreenivasan B, Raghavan V. Hydrodynamics of a swirling fluidised bed. Chemical Engineering and Processing. 2002; 41(2): p. 99-106.
Venkiteswaran V, Sulaiman S, Raghavan V. Comparative Study of the Hydrodynamic Performance of Shorter and Longer Blades im a Swirling Fluidized Bed. Advanced Materials Research. 2013; 772: p. 560-565.
Briens L, Bojarra M. Monitoring Fluidized Bed Drying of Pharmaceutical Granules. AAPS PharmSciTech. 2010; 11(4): p. 1612-1618.
Tousey M. The Granulation Process 101: Basic Technologies for Tablet Making. Pharmaceutical Technology. 2002; 2002(2): p. 8-13.
Rhodes M. Introduction to Particle Technology. segunda ed.: Wiley; 2008.
Richardson JF, Harker JH. Particle Technology and Separation Processes. quinta ed. Oxford: Butterworth-Heinemann; 2002.
Crowe C. Thermopedia. [Online].; 2010.. Disponible en: https://www.thermopedia.com/content/42/
Paiva JM, Pinho C, Figueiredo R. The Influenceof the Distributor Plate on the Bottom Zone of a Fluidized Bed Approaching the Transition from Bubbling to Turbulent Fluidization. Chemical Engineering Research and Design. 2004; 82(1): p. 25-33.
Huttlin H, inventor; Apparatus for Treating Particulate Material. Estados Unidos. Patente 7,802,376 B2.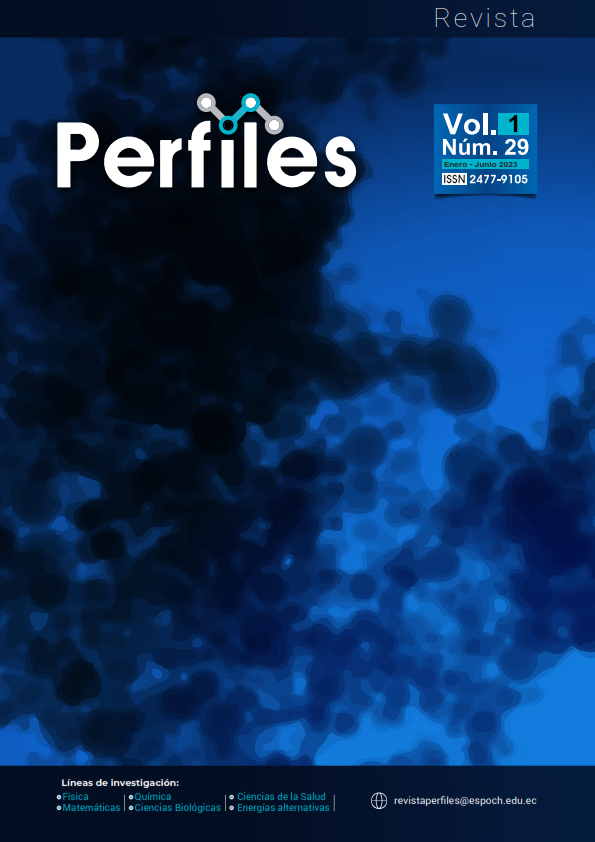 How to Cite
Delgado, A., Gordillo, G., González, H., Santamaría, J., García, E., & Delgado, R. (2023). Analysis of the flow pattern of a fluidized bed using alternative designs of air distribution trays. Perfiles, 1(29), 16-29. https://doi.org/10.47187/perf.v1i29.197
License
This work is licensed under a Creative Commons Attribution-NonCommercial 4.0 International License.